"A School with a Heart"
Summer School registration is open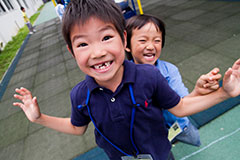 We are now accepting applications for Summer School at St. Mary's.
Summer School will run for three weeks, from June 10 to June 28, and has classes and activities for boys and girls of nearly all ages.
Please find the brochure here, and register at this site.
Registration deadline: May 22
Upcoming events and news
Applications accepted year-round
Schedule a tour of our newly rebuilt campus and see for yourself why St. Mary's is the school for boys in Tokyo! St. Mary's welcomes boys of all nationalities and faiths.
Please find the application forms here. For further information and tour reservations, contact us at admissions@smis.ac.jp.
Welcome to St. Mary's International School in Tokyo
St. Mary's International School has been providing quality education to the international community in the Tokyo area for over 50 years. Now in our second half-century, we have close to 1,000 boys from approximately 60 different countries. This international student body, rich in cultural and religious diversity, contributes greatly to the unique educational experience we offer.
St. Mary's is an all boys international school in Tokyo, and our programs are specifically designed to meet the educational and developmental needs of boys. We offer a private, college-preparatory program and provide a sound liberal arts education that enables our students to enter and succeed in the best colleges and universities around the world. St. Mary's International School fosters an atmosphere which allows students to fully express themselves through a wide range of academic and artistic activities.