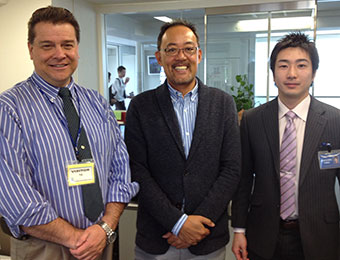 St. Mary's alumni remain a part of the community
Our School
St. Mary's International School, founded by the Brothers of Christian Instruction, opened its doors to 60 foreign boys ranging from kindergarten to grade three in 1954. By 1971, the rapid growth of the international community and the demands for quality college-preparatory education in the Tokyo area encouraged the Brothers to move to its current location, a nine-acre site in the Setagaya district, one of Tokyo's rare green residential areas.
A St. Mary's education nurtures the intellectual, physical, emotional, and social development of each student.
We offer a challenging array of core curricular and extra-curricular programs designed to enable the student to achieve excellence and success. We foster multi-cultural awareness and understanding, and encourage students to develop a sense of global responsibility and citizenship.
St. Mary's school wide learner expectations and school philosophy emphasize the creation of a positive and safe learning environment, wherein a spirit of cooperation, friendship, and mutual respect maximize individual achievement.
The St. Mary's experience begins with a pre-first grade program and culminates with a challenging four-year college preparatory curriculum. St. Mary's offers the International Baccalaureate course of studies, which is a globally recognized and rigorous pre-university program providing academic and interpersonal training that gives students the competitive edge they need for both university studies and their later careers. In addition to the core curricular offerings, St. Mary's has an outstanding array of specialist teachers and facilities, giving students a myriad of opportunities to pursue their interests and fulfill their desires.
Why St. Mary's is the best choice for boys in Tokyo
We are a Boys' School: We develop our resources, choose our teachers, and design our programs with only one goal in mind: to meet the educational and developmental needs of boys.
We are International: We value diversity and have students from nearly 50 countries represented in our student body.
We teach and nurture values to create compassionate global citizens: We teach and model the values of respect and tolerance in all of our classes and offer a K-12 Religion/Ethics Program that caters to boys of all beliefs and faith backgrounds to help them become true Global Citizens.
Our students are accepted into some of the best colleges in the world: Virtually all of our graduates attend college and many of them are accepted into highly prestigious institutions around the world.
We are fully accredited: St. Mary's is accredited by two recognized accreditation authorities: The Western Association of Schools and Colleges (WASC) and The Council of International Schools (CIS).
We have a safe and modern school campus: St. Mary's entire campus is brand new and we are proud to say it is one of the safest buildings in Tokyo. Our facilities include large, modern classrooms equipped with educational technology, a 25-meter swimming pool, a gymnasium that can host two basketball games at one time and a playing field that is second to none in the Tokyo area.
Our extra-curricular programs are excellent: St. Mary's Athletics includes basketball, baseball, tennis, soccer, swimming, wrestling and intramural opportunities. Our Fine Arts Department features drawing, painting, print-making, ceramics, photography, design technology and architecture classes. Performing Arts includes Fall Play, One-Act Play, Musical, Instrumental Music and our internationally recognized Choral Music Program. We also offer a variety of activities including speech, debate, Book Bowl, Brain Bowl, Cub Scouts and Boy Scouts, and others.
Why a Boys' School?
Schools that educate only boys enjoy some powerful advantages over schools that serve both boys and girls. Boys' schools are able to develop their resources, choose their teachers, and design their programs with only one goal in mind — to meet the educational and developmental needs of young men. In brief, boys' schools provide:
A stimulating and safe learning environment that
encourages full participation by boys in all activities (arts, athletics, community service).
promotes self-expression and a respect for the many different paths to manhood.
provides an atmosphere in which to explore sensitive gender issues.
Educational programs tailored to meet the developmental needs of boys where
boys can gain confidence in their ability to learn without being compared to girls who mature more quickly.
books and curricular materials that excite boys can be integrated into all aspects of the school's program.
boys have the opportunity to be taught and coached by experienced faculty.
A setting in which boys develop strong bonds of friendship and camaraderie with peers and teachers so that
the impact of positive male role models can have its fullest effect.
a distinctive esprit de corps enriches the lives of boys.
Excerpted with permission from the International Boys' Schools Coalition website, May 2008.