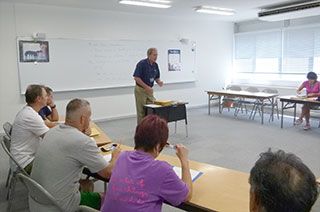 Thank you for your interest in teaching at St. Mary's International School
St. Mary's International School is a Catholic boys' school founded in 1954 by the Brothers of Christian Instruction which welcomes boys of all faiths and nationalities. St. Mary's offers boys a K-12 American/international curriculum preparing students for college and university entrance. The International Baccalaureate Programme is offered in grades 11 and 12. There is an extensive co-curricular program for sports and fine arts.
Please apply here for employment opportunities at St. Mary's International School.
High School Student Services Support
(Part-time assistant)
Supports all aspects of work done by high school counselors and high school coordinators (IB coordinator, Fine Arts Coordinator, and Athletic Director)
Requirements:
Bilingual Japanese/English
Excellent computer skills and attention to detail
Self-starter/learner
Problem solver
Able to meet deadlines and prioritize tasks
Able to communicate effectively and professionally
Understanding of IB curriculum, or willingness to learn
Understanding of college application process (US, Japan, UK, Korea, and other countries)
Clerical experience
Familiarity with PowerSchool and Naviance
Cheerful and professional in demeanor
A high degree of integrity, including preserving the confidentiality of all aspects of work
Supportive of the specific professional interests of the counselors and coordinators
Term of employment: Mid-August to early June (7 hours/day)
Local applicants only
Reports to High School Principal
To apply
Apply for this position to Mr. Koji Shimomura, shimomurak@smis.ac.jp, business manager.