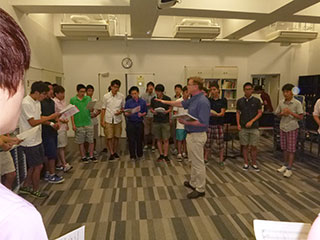 Choir rehersal at St. Mary's
The choirs of St. Mary's International School seek to nurture a love of music among their members, with a mission to promote community service and global awareness. Students have the opportunity to rehearse and perform the world's great classical choral works as well as light, popular works.
The premier choir at St. Mary's is Grade 5 Choir, where the members begin the basic choral skills in two– and three–part singing. The Middle School boasts two choirs: The 50–member Grade 6 Choir and the 86–member Middle School Choir. These choirs participate in the Middle School Choral Festival as well as perform at the St. Mary's High School Concerts.
The 107–voice St. Mary's Men's Choir is a non-auditioned group of students from grades 9 through 12. In past years, the group has participated in the Heritage Festival, and most recently they participated in the Pacific Basin Music Festival where they received the highest ranking, along with the St. Mary's Varsity Ensemble.
The Varsity Ensemble is St. Mary's auditioned vocal group that has participated in ACDA conventions as well as numerous choral festivals. This past year, they competed in the Budapest Choral Competition and Festival and received a gold award.
The International Show Choir is an auditioned mixed choir that performs classical as well as popular choreographed music. Students from Seisen International School and the International School of the Sacred Heart also participate in this 36???voiced ensemble.
Upcoming Choral Events
Saturday, November 9
KPASSP Vocal Solo and Ensemble Festival
at Christian Academy in Japan
Saturday, December 7
St. Mary's Elementary School Christmas Concert
Sunday, December 8
St. Mary's/Seisen Choral Christmas Concert
Sunday, February 2
ISCA Dinner Show
Thursday, March 6
KPASSP High School Choral Festival
at Christian Academy in Japan
Saturday, March 8
KPASSP Honor Choir Concert
at American School in Japan